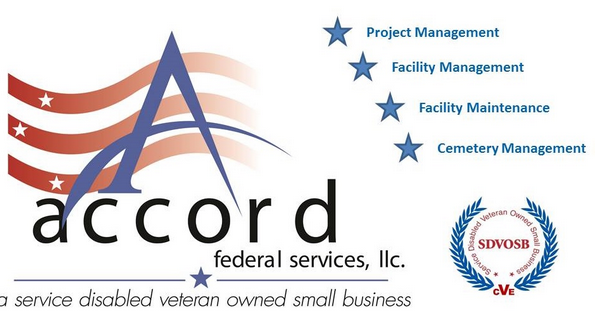 small company BIG CAPABILITIES
As a federal government contractor we currently hold multiple prime contracts in facility / HVAC  management, grounds maintenance, cemetery maintenance and related services.
AC-CORD verb 1 : to bring into agreement 2 : to grant or give especially as appropriate due, or earned 3 : to give consent 4 : to be consistent or in harmony: agree
Accord, Our name is our commitment! We create win-win agreements with our Clients, Teaming Partners and Employees. Together we provide quality services for the U.S. government and large commercial contractors.
Our project managers build teams of subject matter experts that fulfill the needs of government agencies and companies.  Accord provides the contract and project management oversight while our team members provide expert project execution.  We are a Service-Disabled Veteran-Owned Small Business centrally located in Knoxville, Tennessee.
Accord is lead by a team of service-disabled veterans, Milton Tookes, Jonathan Williams, and Bruce Watson. All three are award winning senior professionals with over 80 years of combined successful national and international experience in contract management, logistics, supply chain management, project management, and contract negotiations for the federal government and support to the commercial sector; utilizing core strengths in strategic planning, organizational leadership and collaboration.
Teaming  –  Partnerships  –  Success
Accord Federal Services is actively interested in securing Teaming Partners for upcoming opportunities.
---

Proud Member of the Tennessee Veterans Business Association

Proud Member of the Knoxville Chamber of Commerce
Accord Federal Services & Vanquish Wordwide – EAGLE BOA